On Saturday, May 14th, it is
National Stamp Out Hunger Day
. Simply leave a bag of non-perishable foods in a bag for your mail carrier. Your letter carrier will pick it up on Saturday, May 14th and deliver it to local food banks or pantries.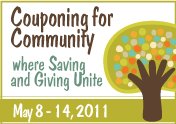 Because of my *Love* of coupons, and shopping the deals to get item for FREE or almost FREE, not only am I able to save my family money, but it also allows me to give back to my community, and help out friends/family members in need.
Therefore, this week I have decided to join
Couponing for Community!
Over 124 Couponers for across the country have joined, and so far they have already donated over 10,000 items and nearing 15,000!
So if you haven't done so yet:
*Like
Couponing for Community
and
Stamp Out Hunger
on Facebook
*Gather your items to donate for you mail carrier to pick up tomorrow morning.
I also gathered my non-food donations that I will personally drop off to a local pantry that also needs drugstore items such as toothpaste, deodorant ect.
*Make sure to head over to
Couponing for Comunity
to add the number of items that you're donating!
*Don't Forget to sign up for my
Free email newsletter
or
RSS feed
, so that you never miss any tips! Thank You for reading &
subscribing!