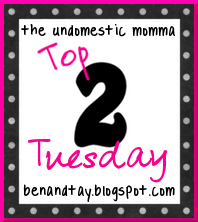 This is my first time participating in Top 2 Tuesday, but I love to meet new bloggers and this looks like a lot of fun! This week the theme is Magazine's and today I have had magazine's on my mind! LOL!
It was really hard for me to pick just two of my favorite magazine's, because I like a lot of them, and I get a lot of Free magazine's in my mailbox every week!


#1 is All You Magazine hand down! All You magazine is filled with money-saving coupons and a lot of great articles. Every month I get excited to see my All You magazine in the mail! You can only get All You magazine by subscription or by purchasing it at your local Wal-mart store. I get my subscription to All You magazine Free, and you can too. Here's How...
First, sign up for Swagbucks, if you are not a member yet! It's Free to sign up & it only takes a few minutes. Make sure to download the toolbar after you sign up. Swagbucks is an Internet search engine, that you use instead of Google. Except when you do a search through Swagbucks, you win Swagbucks, that you can then turn into Free Amazon.com giftcards! It's so easy to do & I like that I am getting rewarded for something that I'd do anyway! Then I order the magazine subscriptions from Amazon.com with my free gift cards! Ordering All You magazine from Amazon is a better deal than purchasing it every month at Wal-mart!

#2 Family Fun magazine!
I read through this magazine every month and I get tons of great idea's to do with my kids! You can
order Family Fun magazine
this week for as low as $2.81 for a 1 year subscription! Go
Here
for the details! You can also get Woman's Day, or Family Circle for as low as $2.81 for 1 year as well!
As I said at the beginning of this post, I get a lot of magazine's Free in my mailbox every week! Make sure to check out my weekly feature,
"Free Stuff Friday"
so that you can also take advantage of all the freebies on the web, including free magazine's! And on Monday's I post
Mailbox Monday
to share all the goodies that I got in my mailbox. I would also recommend signing up for my
daily email newsletter
or subscribe via
RSS feed
, or follow via
google friend connect
(on the right sidebar) and check back often because I also post time-sensitive magazine deals, and freebies as they come available!
*You can also go Here to learn how to make money from your magazine's!
*Don't Forget to sign up for my
Free email newsletter
or
RSS feed
, so that you never miss any tips! Thank You for reading &
subscribing!